Will Smith, Mena Massoud and Naomi Scott's Aladdin goes on floors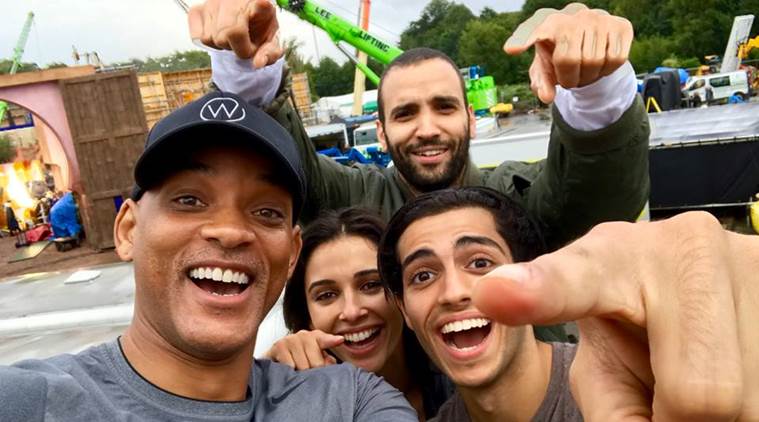 After officially confirming that Disney's Aladdin will have Mena Massoud and Naomi Scott as the leads and Will Smith as the genie last month, the team is currently shooting for the live-action adaptation at Longcross Syudios outside London.
Announcing the news on Facebook, Men in Black actor Will Smith posted a groupfie with the actors and wrote, "We just started shooting Aladdin and I wanted to intro you guys to our new family… Mena Massoud/Aladdin, Naomi Scott/Princess Jasmine, Marwan Kenzari/Jafar, and I'm over here gettin my Genie on. Here we go! — with Naomi Scott and Mena Massoud."
Even Disney posted, "Meet the cast of the live-action adaptation of Aladdin, directed by Guy Ritchie: Will Smith as Genie, Mena Massoud as Aladdin, Naomi Scott as Jasmine, and Marwan Kenzari as Jafar! (?: Will Smith)."
Two-time Oscar nominee Will Smith will play the Genie in the film who has the power to grant three wishes to whoever possesses his magic lamp. Mena Massoud will feature as Aladdin, the hapless but lovable street rat who is smitten with the Sultan's daughter. Naomi Scott will be seen as Princess Jasmine, the Sultan's beautiful daughter who wants to have a say in how she lives her life. While Marwan Kenzari comes as Jafar, an evil sorcerer who devises a nefarious plot to unseat the Sultan and rule Agrabah himself and Homeland fame Navid Negahban plays the Sultan.
Helmed by Sherlock Holmes director Guy Ritchie, Aladdin is being backed by Dan Lin. While John August will be working on the screenplay which will be based on the 1992 animated film, Aladdin.